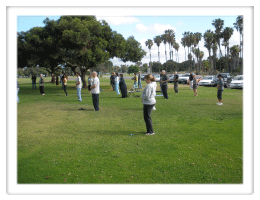 We have free Wuji Gong group practice every week.
For those who have not yet learned the practice of Wuji Gong, we offer free instruction.
For those who already practice Wuji Gong, group practice is an excellent way to keep your practice on track. In a group, the energy field is strong. All who are there contribute to the energy field and all benefit from the combined energies where the sum is greater than its parts.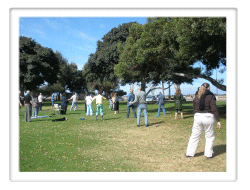 We welcome all new comers. The only request for first time attendance is that you arrive 20 minutes before the regular start time so that you may be instructed in the preliminary movements of Wuji Gong. Wear whatever is comfortable.
Wuji Gong is a self-healing exercise. It is meditation in movement. It is both the simplest and most profound method of Qigong. No choreographed forms have to be memorized.

There are no prescribed movements. You are the patient, your are the doctor and the prescription comes from within you. Your movements are dictated by the needs within you and by nature's wisdom. It may be vigorous movement, it may be a quiescent altered state. A person in a wheel-chair can practice Wuji Gong.
Practice time and place
Time: Sundays – 9 to 10 a.m. For those who need instruction on Wuji Gong: 8:40 a.m. to 10 a.m.
Place: The Sunday practice site is slightly south of the Hilton Hotel, 1775 E. Mission Bay Dr. San Diego, 92109. Go slightly further south to the Tecolote Shores sign.
Coming from the north via I-5 south, exit at Mission Bay Dr/Clairemont Dr and head west towards the bay. Go to E. Mission Bay Dr. and turn left (south) past the Hilton Hotel until you see the Tecolote Shores sign. Across the little road are slanted parking spaces. Park there and we're on the grassy grounds next to the parking spaces. There are trees for shade and sun for those who want sun.
Coming from the south via I-5, exit at Sea World Dr/Tecolote Rd. Turn left at light onto Sea World Dr. At 2nd light, turn right to go into E. Mission Bay Dr. Go past Fiesta Island, over bridge, past a children's playground until just before the Tecolote Shores sign. On the left are the slanted parking spaces. As stated above, we'll be on the grassy grounds next to the parking spaces.